NAPOMENA: Ovo su nepotpuni rezultati (ponoć).
 Kako izbori ovise o socioekonomskim parametrima možete pogledati na primjeru naše analize prošlogodišnjih EU izbora. Ovdje ćemo objavljivati analize kako su se izbori 2014 promijenili u odnosu na 2013.
Mapa glasova za HDZ koaliciju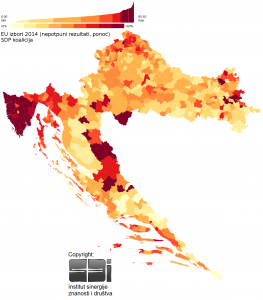 Mapa glasova za SDP koaliciju
Mapa glasova za ORAH
Mapa glasova za Savez za Hrvatsku
Mapa glasova za Laburiste
Promjene koje su se desile u odnosu na EU izbore 2013, a koje su omogućile veću dominaciju HDZ koalicije u 2014., mogu se vidjeti na grafikonu lijevo. Tu je prikazan broj glasova (nepotpuni rezultati u ponoć) za SDP koaliciju i HDZ koaliciju u 2013. i 2014. I dok je SDP ostao na jednakom broju glasova, HDZ je uspio podići izlaznost svojih birača. Tu su posebno važna mjesta s većim brojem birača (gornji desni kut).
Uz to se postavlja pitanje koliko Laburisti i ORAH oduzimaju glasova SDP-u. Grafikon lijevo pokazuje odnos udjela glasova za ORAH ili Laburiste i SDP-a. Zanimljivo kako su podaci za Laburiste poprilično "raspršeni" vertikalno, što govori da Laburisti "kradu" glasove i desnoj opciju (HDZ-u). Za razliku od njih, ORAH ima vrlo snažnu korelaciju s glasovima za SDP (udio glasova za ORAH raste kako raste i udio za SDP), što ukazuje da je to opcija koja "preuzima" glasače SDP-u.